Live casinos is the perfect solution when you want to play casino games online but not rely on a random number generator. When you play an animated game in an online casino, the outcome is determined by a random number generator. When you play a game in a live casino online, the outcome is determined the old-fashioned way, e.g. by actual physical playing cards, by a real ball spinning in a real roulette wheel, and so on.
The play in a live casino online takes place in front of webb cameras, which means that you can follow it in realtime – both visuall and by listening to the sounds. Nowadays, high-quality live casinos even allow you to adjust the angle of the camera.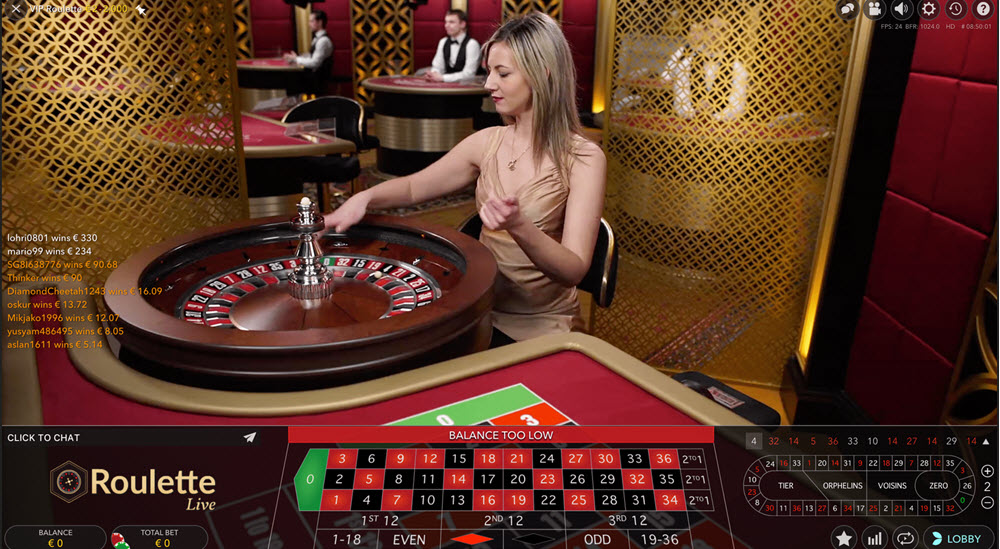 Live dealers or auto-roulette
Most games in a live casino online are staffed by a live flesh-and-blood dealer (croupier) who deals the cards, spins the roulette wheel, and so on.
There is one notable exception though: quite a few live casinos offer auto-roulette, a game where the roulette ball is shot into the spinning wheel by a machine instead of being handled by a dealer's hand. The fact that no dealer is needed typically means that lower minimum wages are allowed at the auto-roulette table, since there is no staff to pay. Auto-roulette is an excellent choice if you want to stay away from random number generators and enjoy seeing a real ball spin, but doesn't have any need to interact with a human dealer and wants to make really small bets.
Chat feature
Some online casinos have a chat feature that makes it possible for you to chat with the dealer and/or with other players at the table. You don't have to use the chat if you don't want to.
Themes
Some live tables have special themes, e.g. Blackjack in a London-themed game studio where the dealer speaks with a British accent.
Having the news or live-televised sports events on in the background is also quite popular, to indicate that the gambler isn't watching a prerecorded roulette session.
Can I play on a smartphone?
Yes, there are plenty of live casinos online that work well on mobile devices such as smartphones and tablets.
What games are available?
Exactly which games that are available will depend on which livecasino you visit. Pretty much all of them feature Roulette and Blackjack, and most also have Baccarat and at least one or two versions of Casino Poker. Two more unusual games that are only found in certain live casinos online are Deal or No Deal (based on the TV-show) and Dream Catcher – a big spinning wheel reminiscent of chocolate wheels at fairgrounds. If you like dice games, look for live casinos that offer Sic Bo.
Examples of available live roulette games
European roulette
American roulette
French roulette (but usually without La Partage and En Prison)
Lightning roulette
Immersive roulette
Double Ball roulette
Examples of available live blackjack games
Single Deck blackjack
European blackjack
Infinite blackjack
Double Exposure blackjack
Most blackjack games are played with six or eight decks shuffled together.
Examples of available live baccarat games
Baccarat
Live Dragon (a two-card version of baccarat)
Punto Banco
Some baccarat games have side bets available, especially in live casinos with a lot of Asian players.
Examples of available live casino poker games
Live Three Card Poker
Live Caribbean Stud Poker
Live Casino Hold'em
Live Ultimate Texas Hold'em
Live Texas Hold'em Bonus Poker
Casino poker is played against the house, not against the other players at the table.
Timer
When you play animated games in an online casino, there is usually no time limit to worry about. The animated roulette ball will just keep in spinning on and on while you think, or not start spinning at all until you have made your wager.
A live casino online works more like a brick-and-mortar casino, since there is a real ball in the roulette wheel and you might have other players (virtually) present at the same blackjack table. Because of this, time is of the essence, and many games have a timer. If you don't take action before the time is up, you will miss your chance to place a wager on this round of the roulette wheel or participate in this round of blackjack or poker.
Why do some people prefer live casinos online instead of animated casinos?
The outcome of the game is not determined by a Random Number Generator or Pseudo-Random Number Generator.
You can use the chat feature to chat with the dealer or with other players.
Nowadays, it is common for live casinos to have a much wider assortment of table games than the animated counterpart.
The feeling in a live casino is very different and more festive. Some live casinos online even Livestream from within a traditional brick-and-mortar casino.
You can choose between a lot of different gambling themes, e.g. London Roulette, Venecian Roulette, Swedish Roulette, Sports Studio Blackjack, and so on.
Why do some people prefer live casinos online instead of brick-and-mortar casinos?
You can play from the comfort of your own home. No need to worry about transportation, parking, child care, and dress codes.
You can be picky. If you don't like a particular casino, move on to a new one with a few simple clicks.
No brick-and-mortar casinos near where you live? No problem, the online live casinos are accessible through your computer, tablet or smartphone.
In many parts of the would outside places like Las Vegas och Macao, brick-and-mortar casinos have limited opening hours. Live casinos online are available 24/7.
You can chat with dealers and players from all over the world; people that you would never meet in your local brick-and-mortar casino.
You can do a quick gambling session. If you would go through the trouble of actually traveling to a brick-and-mortar casino, you would probably feel like you needed to stay for a while. With an online live casino, there is no such pressure. Just pop-in, play a few rounds and log off whenever you feel like it.
There are many live casinos online that will provide you with A LOT of data and statistics regarding previous rounds, e.g. previous numbers on the roulette. Brick-and-mortar casinos might have a small screen showing the last few spins, while online casinos can provide you with much more info and also compile it in various ways. You can also, in some live casinos online, obtain statistics pertaining to your gambling sessions in the casino.
You never have to worry about being seated next to a less-than-pleasant person. If someone is behaving poorly in the chat, simply report and block them.
No smelly people, people drenched in perfume or people blowing cigarette smoke in your face. No one will spill a drink over you or the table in the online live casino.